HAREL YACHTS
IGY Simpson Bay Marina Plaza del Lago Bldg
Simpson Bay, MF, 97150
Tel:+590 690 76 22 22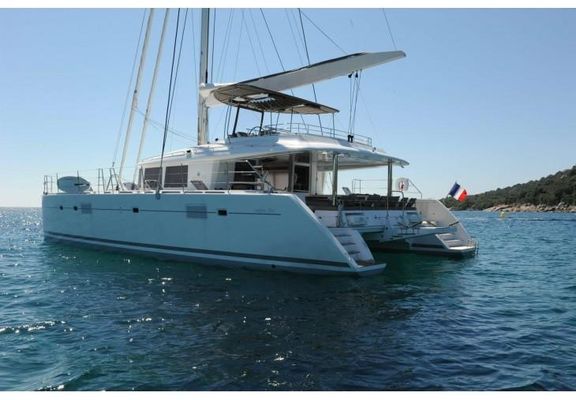 2011 Lagoon 560
Caribbean, St. Maarten/St. Martin
best value / best price for this Lagoon 560
No charter / owner boat
PRESTINE CATAMARAN - Lagoon 560 - 4 Cabins - Year 2011
Harel Yachts, Lagoon dealer ! 
Lagoon 560, Launched and Delivered in 2011.
This nice Lagoon 560 in great shape and well equipped. You just have to turn the keys and she's ready to go! 
She has everything an owner would love to have on, she is very well equipped for Bluewater.
Full equipments : 
-Carbon Bom
-Carbon steering wheel
-Staysail
-Ice maker
-Carbon Gangway
-Engines 110 HP with 3 blades folding propellers
-Genset 17,5KVA
-Electrical heads
-Watermaker
-Air conditioning
-Port & starboard bow cabin
-Washing machine
-Washer dryer
-Radar
-AIS
-TV
-Dinghy
CONTACT US FOR MORE DETAILS
Specifications
Length Overall
56 ft / 17.07 m
Max Draft
4'11 ft / 1.50 m
Total Engine Power
220 hp
Engine 1 Specifications
Propeller Type:
3 Blade, Folding
Engine 2 Specifications
Propeller Type:
3 Blade, Folding
Engine Location:
Starboard
FRENCH DESCRIPTION
FINITION COMFORT RESTE DU MONDE
Stores sur la descente des cabines arrière, 3 winchs électriques 70.2 sur le fly à la place du standard, parc de batteries au gel 840Amp 24V, pack 2 chargeurs 24V 100Amp chacun, ventilateurs pour carré et cabines, vide-poches en cuir dans cabines, autoradio lecteur CD MP3 + HP dans carré cockpit fly + télécommande, pack navigation Raymarine 2011, écran E140W au poste de barre Carte Reste du Monde, compteur de chaîne au fly, fermeture de fly motorisée, prise eau douce de quai, éclairage de courtoisie dans cockpit jupes et fly, 2 spots 12V dans poutre arrière, pompe de lavage de pont eau de mer / eau douce dans puits à chaîne, fonds de cockpits avant et arrière et jupes en teck
OPTIONS :
PROPRIÉTAIRE (4 cab, 4 toil)
RIDEAUX SUR PORTE ENTRÉE & VITRAGE ARRIÈRE CARRÉ (Moonlight)
STORES PLISSÉS DANS LES CABINES POUR VERSION 4 CABINES
SELLERIE SPÉCIALE CUIR (carré & assises)
Cuir blanc, référence Devon
ACCASTILLAGE DE GENAKER AVEC EMMAGASINEUR
BÔME CANÖE CARBONE, ÉCLAIRAGE, LAZY BAG TAUPE, MÂT BLANC
PLUS-VALUE POUR GV À CORNE & GÉNOIS HYDRANET À LA PLACE STD
TRINQUETTE HYDRANET +GRÉEMENT COURANT, DRISSE +ENROUL MANUEL
BARRE À ROUE CARBONE
BIMINI GRANDE TAILLE SUR POSTE DE BARRE TAUPE
Bimini + Taud de soleil mouillage
ÉCHELLE DE COUPÉE
ICE-MAKER 220V DANS COCKPIT
PAIRE DE BOSSOIRS ALUMINIUM HYDRAULIQUE (450kg)
PASSERELLE CARBONE REPLIABLE 2,60m AVEC HOUSSE + 2 LYRES
TOILE DE SOLEIL POUR CÔTÉS & ARRIÈRE DE COCKPIT (Taupe)
KIT DE HOUSSES TAUPE
Barre à roue, Console de barre, Tables de cockpit, Coffre BIB
COUSSINS BAIN DE SOLEIL SUR LE FLY HEATHER GREY
COUSSINS DE COCKPIT ARRIÈRE ET POUTRE ARRIÈRE HEATHER GREY
COUSSINS DE COCKPIT AVANT HEATHER GREY
MOBILIER DE FLY HEATHER GREY
Banquette composite, Coussins, Table basse
SELLERIE STD DE FLYBRIDGE HEATHER GREY (à la place du std)
4 SPOTS ÉCLAIRAGE SOUS-MARIN OCEANLED BLANCS Au lieu de Bleu standard
HÉLICES TRIPALES REPLIABLES POUR YANMAR 4JH4-HTE (110CV)
MOTEURS SUPPLÉMENT POUR 2 x 110 CV (Yanmar 4JH4-HTE) AVEC 2050 HEURES EN JUIN 2017
Avec ligne d'arbre et commandes électriques
GÉNÉRATEUR ONAN 17,5Kva 1500tr 220V / 50Hz + COCON AVEC 7425 HEURES EN JUIN 2017
PACK 2 CONVERTISSEURS 24 / 220V - 5000VA
WC ÉLECTRIQUES TECMA EAU DOUCE POUR VERSION 4 CABINES
1 WC électrique standard dans toilette propriétaire
DESSALINISATEUR 220V SEARECOVERY 280 L H
AMÉNAGEMENT COUCHETTE, WC, DOUCHE, LAVABO DANS POINTE AVBD
AMÉNAGEMENT COUCHETTE, WC, DOUCHE, LAVABO DANS POINTE AVTD
CLIMATISEUR EAU GLACÉE CENTRALISÉE RÉVERSIBLE 72000BTU 4CAB
CONSERVATEUR INOX 100L SUPPLÉMENTAIRE
FOUR MICRO-ONDE + GRILL ENCASTRABLE 220V
LAVE / SÈCHE-LINGE MIELE 5kg 220V
LAVE-VAISSELLE MIELE 12 couverts 220V
3 POUFS SUPPLÉMENTAIRES POUR LES CABINES - CUIR
Standard : 2 poufs dans carré + 1 pouf dans cabine propriétaire
Cuir blanc, référence Devon 0804
ÉCRAN E120W À LA TABLE À CARTES - CARTE RESTE DU MONDE
PLUS-VALUE HIFI/DVD HOME CINEMA BOSE LIFESTYLE 38 DANS CARRÉ
& 4 haut-parleurs dans cockpit et flybridge
RADAR HD DIGITAL RAYMARINE 18" 48MN RADÔME 4kw, PROTEC. INOX
TÉLÉCOMMANDE PILOTE SMARTCONTROL
VHF RAYMARINE 240 E DOUBLE POSTE AVEC ASN
AUTORADIO LECTEUR CD MP3 / DVD + 2 HP CABINE PROPRIÉTAIRE
ÉMETTEUR / RÉCEPTEUR AIS 500 RAYMARINE AVEC COUPLEUR
TV LCD COULEUR 22" SONY PAL/SECAM POUR CABINE PROPRIÉTAIRE
ANTENNE DE MÂT RR (TV Hertzienne, VHF, AM-FM, GSM)
INTERFACE PC SEATALK USB RAYMARINE
TV LCD COULEUR 32" SONY PAL/SECAM SUR ASC. ELEC.DANS CARRÉ
2 CAMÉRAS CAM 100 RAYMARINE SOUS FLY
PACK ANNEXE CARIBE AVANTAGE 430XT GRISE &MOTEUR HONDA BF50CV
MOUILLAGE ET PARRE BATTAGE
ENGLISH DESCRIPTION
OWNER (4 cabins, 4 heads)
COMFORT VERSION
Blinds on aft cabins companionway
3 electrical winches 70.2 on flybridge in lieu of standard
Gel service batteries 840Amp 24V
2 battery chargers 24V 100Amp each + alternators 24V
Fans for salon and cabins
Leather bulkhead organizers in the cabins
Radio CD MP3 player+speakers in salon, cockpit, fly + B&G Sonic Hub
Navigation Pack B&G 2015
MO 16T display at helm station
Europe card
Rest of the world card
USA card
Chain counter at flybridge
Electrical flybridge door
Freshwater dock inlet
Indirect lighting in cabins and salon
Deck courtesy lights in aft cockpit, transoms and flybridge
2 spot lights 12V in aft beam
Deck wash pump sea water / fresh water in chain locker
Transoms and fwd and aft cockpit floors in teak
OPTIONS
CURTAINS ON SALON DOOR AND AFT WINDOW (moomlight)
PLEATED BLINDS IN THE CABINS
UPHOLSTERY (salon & settees) white leather
FURLING GENNAKER
CANOE CABON BOM, LIGHT, LZAY BAG TAUPE AND WHITE MAST
EXTRA FOR HYDRANET SQUARE TOP MAINSAIL & GENOA IN LIEU OF STANDARD
HYDRANET STAYSAIL + RUNNING RIGGING AND HALYARD + MANUAL FURLER
CARBON STEERING WHEEL
EXTRA LARGE FLYBRIDGE BIMINI AT THE HELM STATION
BIMINI + SUN COVERS AT MOORINGS
SWIMMING LADDER
ICE MAKER 220 V IN THE COCKPIT
ALUMINIUM HYDRAULIC DAVITS (450kg)
HYDRAULIC GANGWAY 2,6 M WITH COVER
SUN COVERS FOR THE COCKPIT(TAUPE)
KIT COVERS TAUPE
Steering wheel, helm station, cockpit table
SUNLOUNGER CUSHIONS AT FLYBRIDGE HEATER GREY
COCKPIT CUSHIONS AFT HEATER GREY
COCKPIT CUSHIONS BACK HEATER GREY
FLYBRIDGE FURNITURE HEATER GREY
Composite settee, cushions, coffee table
UPHOLSTERUES FLYBRIDGE HEATER GREY
4 UNDER WATER OCEANLED SPOT LIGHTS - COLOR WHITE
3 BLADE FOLDING PROPELLER FOR THE YANMAR 4JH4-HTE (110 HP)
with electrical command
ADDITIONAL POWER 2*110 HP YANMAR 4JH4-HTE WITH 2050 HOURS IN JUNE 2017
GENSET ONAN 17,5 KVA 1500 tr 220V / 50HZ+ COCON with 7425 HOURS IN JUNE 2017
PACK 2 INVERTER 24 / 220 V 5000 VA
ELECTRICAL HEADS TECMA WITH FRESH WATER FOR THE 4 CABIN
1 ELECTRICAL HEADS STD IN THE OWNER CABIN
WATERMAKER 220V SEARECOVERY 280 LITER PER HOUR
CREW CABIN IN PORT BOW COMPARTMENT (berth, sink, shower, toilet)
CREW CABIN IN STARBOARD BOW COMPARTMENT (berth, sink, shower, toilet)
AIR CONDITIONNING REVERSIBLE 72 000 BTU FOR 4 CABINS
ADDITIONAL FRIDGE INOX 100L
MICROWAVE OVEN + GRILL 220V
WASHING MACHINE / DRYER MIELE 5KG 220V
DISH WAHSER MIELE FOR 12 WITH 220V
3 ADDITONAL SEAT FOR SALON - LEATHER - WHITE COLOR
SCREEN E1200W AT CHART TABLE - CARD REST OF THE WORLD
HIFI /DVD HOME CINEMA BOSE LIFESTYLE 38 IN THE SALON
+4 loudpseakers in the cockpit & flybridge
RADAR HD DIGITAL RAYMARINE 18' 48MN RANDOME 4KW PROTEC INOX
AUTOPILOT REMOTE CONTROL SMARTCONTROL
VHF RAYMARINE 240 E DOUBLE WITH THE ASN
RADIO READER CD MP3 / DVD + 2 LOUDPSEAKER IN THE OWNER CABIN
AIS 500 RAYMARINE WITH COUPLEUR SENDING AND RECEIVING
TV LCD COLOR 22' SONY PAL/ SECAM FOR OWNER CABIN
MAST ANTENNA RR (TV, VHF, AM-FM, GSM)
CONNTECITON PC SEATALK USB RAYMARINE
TV LCD COLOR 32' SONY PAL/ SECAM IN THE SALON
2 CAMERAS CAM RAYMARINE UNDER THE FLYBRIDGE
DINGHY CARIBE AVANTAGE 430 XT GREY & OUTBOARD ENGINE HONDA BF50HP
MOORING, FENDERS
Disclaimer
La société offre les informations relatives à ce navire de bonne foi mais n'est pas en mesure de garantir l'exactitude de ces informations ni l'état du navire. Il revient à l'acheteur d'instruire ses agents ou ses experts afin de vérifier et de faire valider les informations de son choix. Ce navire est offert sous réserve d'une vente préalable