HAREL YACHTS
IGY Simpson Bay Marina Plaza del Lago Bldg
Simpson Bay, MF, 97150
Tel:+590690102030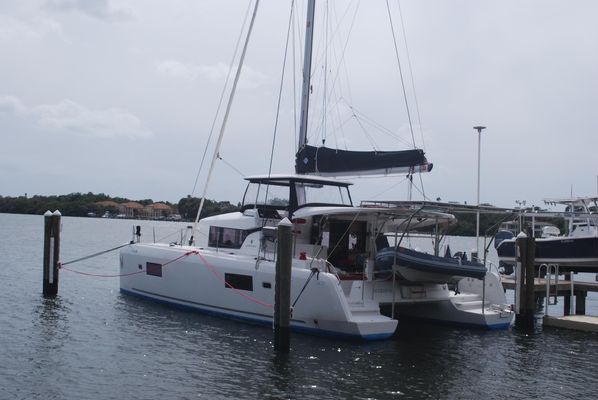 2019 Lagoon 42
Saint Petersburg, United States
HAREL YACHTS LAGOON DEALER OFFERS THIS BEAUTIFUL LAGOON 42, Owner's version 3 Cabins. The boat was handed over in France, Les Sables d'olonne in July 2018.
The boat was outfitted to be totally autonomous, Owners did some extra upgrades afterward adding Lithium and additional Solar, replacing Watermaker. The boat has a Generator, Air conditioning, and a set of Covers for interior and exterior Cushions.
Upgraded Engines, Folding propellers, Inverter, Dinghy, and Outboard.
A complete set of photographs uploaded, they speak for themselves.
History of sailing
Summer of 2018 we sailed from France around Spain and Portugal to the Mediterranean in Spain near Malaga, spending the winter in the marina in the water. 
Spring/Summer of 2019 we sailed from Spain to Turkey, spending the winter on the hard in Greece.
Summer of 2020 we sailed from Greece to Cadiz, Spain: December 2020 your team sailed the boat from Cadiz to St Maarten
St Maarten
January 2021 owners sailed from St Maarten to Grenada
Winter 2022 owners sailed from Grenada to Florida
In Winter 2023 owners sailed from Florida to the Bahamas and back
Specifications
Length Overall
42 ft / 12.80 m
Max Draft
4'1 ft / 1.24 m
Total Engine Power
114 hp
Bridge Clearance
67'9 ft / 20.65 m
Tax Status
Not Applicable
Engine 1 Specifications
Propeller Type:
3 Blade, Bronze, Folding
Engine 2 Specifications
Propeller Type:
3 Blade, Bronze, Folding
Engine Location:
Starboard
FACTORY OPTIONS
OWNER (3 cabins, 3 heads)
LIGHT ALPI OAK WITH MILANO FLOOR - 3 CABINS 3 HEADS
INTERIOR WOOD IN LIGHT ALPI OAK WITH MILANO FLOOR - 3 CABINS 3 HEADS VERSION
COMFORT EQUIPMENT CONFIGURATION 3 CABINS - ALPI OAK
LIST EQUIPMENT
2 additional service batteries 140Amp Pulpits with wooden seats
Electrical circuit with 40 Amp battery charger Battery controler
Helm seat cushions Dark Grey
Flag halyards on spreaders
Indirect lighting in cabins and salon
Waterproof loudspeakers in cockpit
Aft portholes in aft cabins with curtains
MS FUSION Player + 2 loudspeakers in salon
Upper storage in salon on starboard
Additional fuel tank (300Lt / 79US Gal, under floor of aft port cabin) Dinghy hoist system
Leather bulkhead organizers in the cabins
Electrical manœuvre winch to port side 46.2 STAEH Sea and freshwater foot pumps
Deck wash pump sea water / fresh water Freshwater dock inlet
UPHOLSTERY / CURTAINS
SPECIAL UPHOLSTERY PVC SNOW WHITE (salon & settees) - 3-CABIN VERSION
SAILS RIGGING AND HARD
CODE 0 RIG AND POLE
LAZY BAG WITH COVER - GRAPHITE
EXTRA FOR TOP SQUARE MAINSAIL 
DECK GEAR
COMPOSITE BIMINI WITH WINDSCREEN AT HELM STATION & STAIRS FOR ACCESS TO THE ROOF GRAPHITE
FLEXIBLE SOLAR PANELS ON ROOF 3 x 120W
COCKPIT FRIDGE - LIGHT ALPI OAK
OUTBOARD ENGINE BRACKET ON PUSHPIT (MAX 60KG) LARGE TEAK COCKPIT TABLE WITH COVER 


ENGINE 
ENGINES 2 x 57 HP (Yanmar 4JH57)
PAIR OF 3BLADES FOLDING PROPELLERS FOR YANMAR 4JH57 (57HP)
ELECTRICAL CIRCUIT
INVERTER 12 / 220V - 2000 VA
GEL BATTERIES IN LIEU OF ACID BATTERIES USB SOCKETS IN THE CABINS (x4) - 3 CABINS
WATER CIRCUIT
WATERMAKER SEA WATER PRO YEAR 2022
QUIET FLUSH ELECTRICAL TOILETS - 3-CABIN VERSION
INTERIOR EQUIPMENT
STORAGE FURNITURE IN OWNER'S CABIN IN LIEU OF SOFA PVC SNOW WHITE (with Washer Dryer)
FREEZER 100 L (26 US Gal) WITH TOP OPENING - LIGHT ALPI OAK
BERTH IN PORT BOW COMPARTMENT
DOUBLE BERTH IN SALON SHARK BROWN
WASHER/DRYER 220V (Compatible with Storage Furniture)
LOCKER AND MICROWAVE OVEN WITH GRILL 220V - LIGHT ALPI OAK
HI-FI & ÉLECTRONICS
2nd H50 HANDSET AT HELM STATION FOR VHF B&G Rest of the World Card
B&G ZEUS3 12'' DISPLAY AT NAV. STATION
B&G ZEUS3 12'' DISPLAY AT HELM STATION
AIS 400 B&G TRANSCEIVER WITH ANTENNA COUPLING B&G 4G RADAR
B&G VHF V50


ACCESSORIES
DINGHY SET CL 340 GREY WITH HONDA ENGINE BF20HP
ENGLISH OWNER'S MANUAL 
GENERATOR PAGURO VTE 12000V + AC 220V 
IRIDIUM SATELLITE PHONE WITH SIM CARD AND OPERATIONAL DATA 


Upgrades
Additional purchases include:
In 2018 owners bought a code zero head sail and an asymmetric spinnaker from North sails. ($15,000) They are on the boat and in great shape.
In 2018, before leaving France

a 25 kg Rocna anchor (which is our primary anchor and the delta anchor that came with the boat is our secondary anchor. 
a backup hand held VHF Unit that we use at the steering station
a magna grill for outside
an aluminum 2.2 meter Passarella (gangplank, $2,000) which we use for Mediterranean moorings)
Scuba racks to hold up to four scuba tanks (in the starboard bow)
Fans added to the boat, 2 in the owner's cabin, 3 in the salon, 1 in the stern guest cabin
2 folding bicycles with covers  that fit into the starboard bow area and are in good shape.

In October 2021, added the 4 solar panels (410 watts each), 5000 watt Quatro Inverter, 4 kilovolt 300 amp hour Lithium batteries, soft start units for 3 of the AC systems, plus other controllers and wiring.  Expenses were just over $50,000 for this solar upgrade.
In 2023  replaced the engine starting batteries, the 70 meters of chain (the old chain was slowly rusting), and a new radar unit.
In 2022 replaced the original Sea Recovery watermaker with a Sea Water Pro watermaker that has been vastly more reliable.
In 2022 and 2023 we replaced the main halyard, main topping lift, and the #1 reef line with dyneema lines.
2022 we added Balmar alternators, 
 The boat also comes with: 
2 pairs of propellers, one pair foldable and one pair is fixed
2 sets of outdoor cushions, the red upgraded cushions we paid extra for which are still in good shape, plus the original grey cushions that we have that have not been used and are in storage at our house
2 sets of indoor cushion covers (the original standard cushion covers which have not been used, plus the upgraded vinyl cushion covers that we ordered.
Disclaimer
La société offre les informations relatives à ce navire de bonne foi mais n'est pas en mesure de garantir l'exactitude de ces informations ni l'état du navire. Il revient à l'acheteur d'instruire ses agents ou ses experts afin de vérifier et de faire valider les informations de son choix. Ce navire est offert sous réserve d'une vente préalable